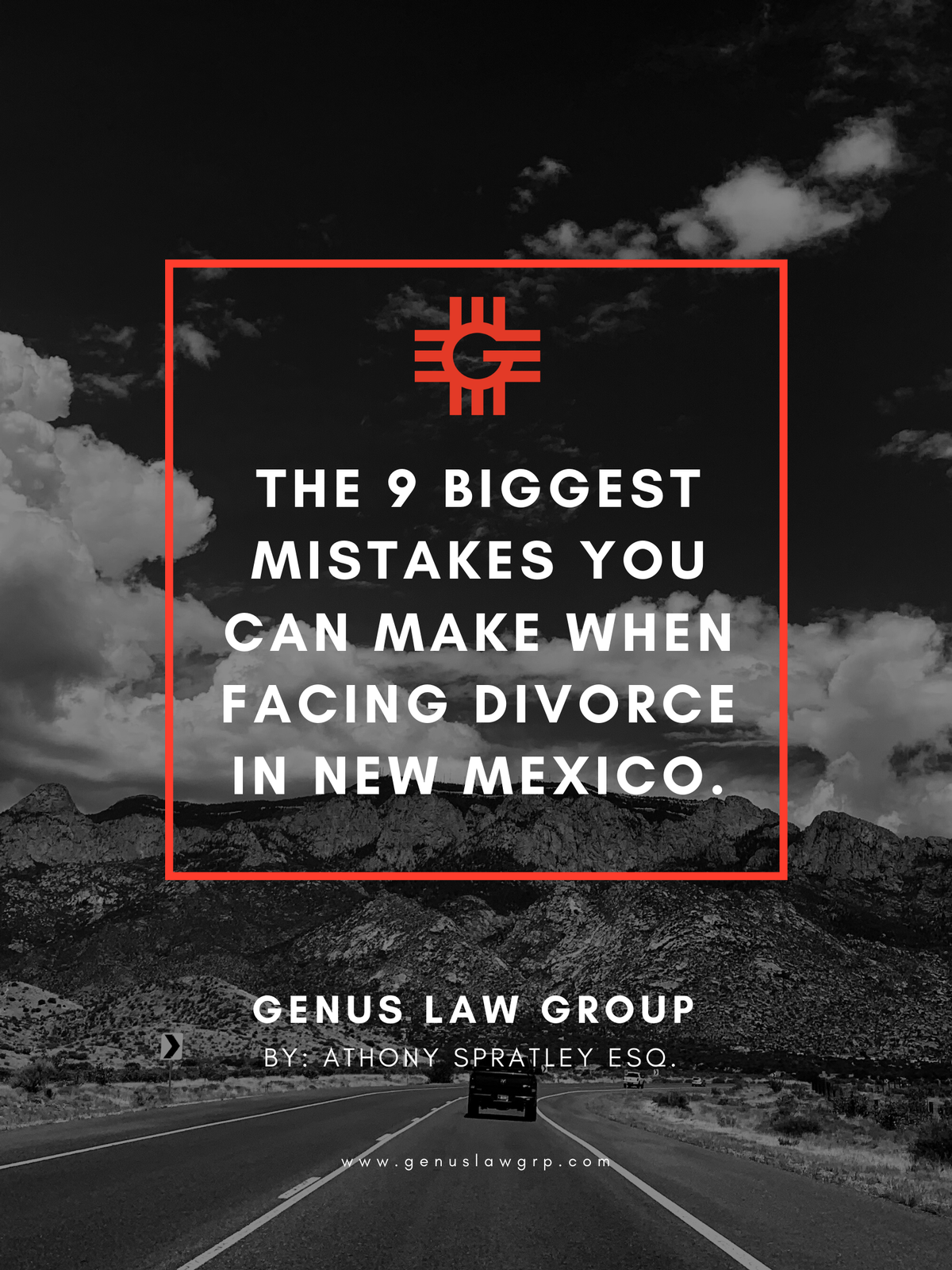 If you've filed—or are planning to file—for divorce in New Mexico, you may be eager to bring an end to an unhappy or unhealthy marriage. However, before you can begin enjoying life as a newly single person, you must first make it through divorce proceedings. In many cases, this is more difficult than it sounds, as the dissolution of marriage process can be both emotionally and financially grueling.
When hurt feelings and high-running emotions are involved, even seemingly small missteps can turn an already fragile situation into a contentious, lengthy, and expensive nightmare. Fortunately, when it comes to divorce, the experienced legal team at Genus Law Group has seen it all. They know all the potential perils—and how to help clients avoid them.
In The 9 Biggest Mistakes You Can Make When Facing Divorce in New Mexico, Genus Law Group founding attorney Anthony Spratley uses his extensive knowledge of the state's dissolution of marriage laws to help individuals understand the divorce process and avoid errors that can put their ability to obtain an equitable divorce agreement in jeopardy. Some of the most common—and costly—divorce mistakes include:
Trying to handle your divorce without an attorney

Lying about your marital assets and debts

Waiting until the divorce is final to file for bankruptcy

Falling for misconceptions about spousal support

Being unreasonable when negotiating for child custody

Refusing to negotiate over assets

Letting guilt cause you to make decisions that aren't in your best interest

Posting about your divorce on social media

Neglecting to provide your attorney with needed information
Genus Law Group's informative divorce guide is available for free via instant download. The guidance offered in The 9 Biggest Mistakes You Can Make When Facing Divorce in New Mexico can help you better navigate the divorce process, including issues such as asset and debt division, child custody and support, spousal maintenance, and more.
If you still have questions after reading our free guide, contact Genus Law Group at (505) 317-4455 to schedule an appointment for a private case consultation.
Request Your Free Report Here